The solution for in-house processors of any size is our CU*BASE member processing system. CU*BASE provides a level of processing competency that surpasses the feature set and functionality of other "traditional" solutions on the market, and does so in a more cost-effective manner. Unlike many competitive solutions, CU*BASE is not a "subset" of our flagship product. As a result, all of our clients can take advantage of system enhancements as they are made for no additional charge.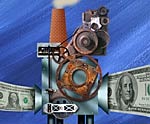 The underlying foundation to provide this environment is the IBM i® server and its fully integrated DB2 database. With over 485,000 systems installed worldwide, the IBM i® delivers industry-leading technology with unrivaled customer satisfaction and loyalty. This allows users to spend their time managing their credit union, not managing their servers and databases.
Ease of Use
CU*BASE incorporates a graphical Windows approach to facilitate ease of navigation, training of staff and member service. By properly architecting and orchestrating the key components of presentation, business logic, data and network delivery, CU*Answers is able to provide a consistent user experience throughout our entire product suite.
Flexibility
No need for server farms with our solution! With its unique architecture, the IBM i® can run Windows, Java, XML, Websphere, Unix and other applications on the same server, allowing new technology and functionality to be integrated without forcing new skill requirements on credit union staff. Accessing information when you need it, from wherever you need it has never been easier.
Scalability
Imagine a server farm of ONE! A single IBM i® server runs a 3,000-member credit union, and a single server runs a CUSO with nearly two million members. Each server requires only a fraction of the total throughput available in the IBM i® product line. This provides tremendous scalability for capacity to meet the growing needs of your credit union.
Reliability and Security
CU*BASE on the IBM i® provides >99.9% uptime for your credit union. Moreover, an IMB i® server has never been infected by a virus. Tiered security levels within the operating system and within CU*BASE ensure the highest level of confidentiality is maintained. CU*BASE also features Network Services, a virtual private network for secure, high-speed access to business partners, as well as CU*Answers support and education resources.
Redundancy
In today's marketplace, business continuity and disaster recovery are integral parts of every credit union's business plan. Our in-house processors have the ability to deploy a tiered redundancy strategy, ranging from facility measures to a fully integrated and automated data replication disaster recovery plan that surpasses other "traditional" solutions in the marketplace.
Choosing the right software partner and the right technology are critical success factors for survival in today's on-demand, in-house marketplace. Your partners at CUaxis can help you manage this business with the lowest total cost of ownership in the industry.
---
Provided by CU*Answers